I wish I could say more about this week. Like how we hit some sort of amazing breakthrough and I have all these awesome new meal ideas to share with you. But we didn't and I don't.
We actually backtracked on our progress this week. Darn trip to Belgium. It really set us back.
Not only did we go WAY off our new eating plan, but we came home to a refrigerator that was very much lacking… That wouldn't pose a problem for most, but it certainly does for us in our current living situation. Here is why:
My car is in the shop indefinitely and I can only drive Daves' standard with enough confidence to make it right down the road to the tiny German grocer (closed on Sundays).

The commissary (military grocery store on post) decided that it will now not only close every Monday, but also every Tuesday due to nationwide furloughs.
Since we got back on Sunday, we were left in the house for 3 days eating what little veggies and fruit I was able to get at the German store. Once Wednesday came around, Dave was able to go to the commissary after he got out of work. Thank goodness!
The only good thing that came out of this was that it gave me 3 solid days to meal plan for the rest of the week and the upcoming one too. Believe it or not, I hate meal planning so this was a total score in my book.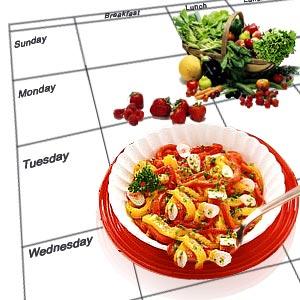 Even though we had a lame week meal-wise, I'll still give you the run down:
Breakfast
Once we got back home from our diet destroying vacation we went back to the regular routine- water based, green smoothie for me, oatmeal and fruit for Dave, and some fruit and graham crackers for Scarlett.
***Breakthrough!!! For Dave this week! He refuses to give up his coffee and since changing his diet, he has been drinking it black with sugar, no milk (which he usually takes). He hasn't been too happy about it. After much suggestion on my part, he finally agreed to try canned coconut milk in his coffee. WIN! He loved it : ) You don't taste the coconut flavor and it adds a great richness to your coffee, probably even more so than the whole milk he was using before. And if you like flavored creamers in your coffee, you could easily sweeten the can of coconut milk and add some vanilla extract. Perfect homemade vanilla coffee creamer!
Lunch
I am back to having a second smoothie for lunch (this one here is Broccoli-Acai). Maybe within the next month I can do something a little more exciting… I'm torn about it. I'd like to actually eat lunch, but at the same time smoothies can pack in so much more raw nutrition than if I made a lunch to eat : /
Dave has been having an interesting week! After our trip to Belgium he kind of got a hankering for baguette veggie sandwiches. He likes things very plain though so I've been making him sandwiches with only has lettuce, tomato, cucumber, pickles, and red onion on it. No sauce. Nothing. If it were meeee, I'd want some dressing, hummus, pesto, or something… but he is happy as a clam with it just as plain as can be.
Scarlett is eating the usual at kindergarten- nutella and peanut butter sandwich on organic whole-wheat bread with organic crackers and cut-up prunes.
***Breakthrough!!! For Scarlett! If I hadn't seen it with my own eyes, I'd probably not believe this one myself. While serving veggie sticks before dinner one day, Scarlett willingly ate 3/4 of a carrot stick! And she actually swallowed it! Normally if she takes a bite of raw carrot she chews it once or twice and spits it back out. I am VERY excited about this!
Dinner
So un-exciting. I'm not going to lie. For the first 3 nights we were grocery-less, Dave had pasta with defrosted Triple Tomato Sauce, I had a GIANT salad tossed with leftover trailmix from the trip, and Scarlett had some fruit and an organic whole-wheat english muffin with coconut oil.
Once we got groceries, I cooked us up some falafel patties served on a homemade flatbread with tomato, lettuce, onion, and raw tzatziki sauce.
Scarlett wouldn't eat the falafels (of course) so she had a plain flatbread with some coconut oil along with some fruit.
SPLURGE: Once I finally got over the repercussions of our trip and started to feel better again, I was in the mood to bake. I wanted to create a fun cookie recipe that was super quick and healthy, but also ONLY created a small batch (exactly 4 cookies!) so I wouldn't binge endlessly for days on cookies… I ended up creating the BEST recipe! I used ground oats as the flour instead of all-purpose to make them all the more healthier AND gluten-free! Scarlett was in heaven. She had no idea she was basically just eating sweetened oats. And why would she? They tasted just like a chocolate chip cookie! Chewy and delicious.
SPLURGE: Have I ever mentioned my addiction to popcorn? Well, it's quite serious. Dave and I always make two big bowls for each of us on the weekends for movie night. Not bagged popcorn though. Stovetop. And so it needed some sort of seasoning, right? Plain popcorn is pretty bland. So, we had been using 'I Can't Believe It's Not Butter' spray along with popcorn salt. NOT NATURAL. Very, very artificial and bad for you. Well, since starting this diet change we both decided we didn't want to give up our popcorn habit. I would just have to come up with a healthier solution: stovetop popcorn sprayed with olive oil and sprinkled with Herbamare and/or nutritional yeast. OMG. Sooooo friggin' good! And incredibly healthy for you too : ) I couldn't be happier about it. So much so that I ate it 3 nights in a row… jeez, talk about lack of self-control.
So although we only had one decent meal the whole week I have to consider this week a semi-success. After all, I did come up with the coolest, healthy, small-batch Chocolate Chip Cookie Recipe EVER!